Face Recognition Terminal Camera Temperature Detection System
Infrared All-in-One Temperature Detection System adopting technologies of thermal imaging, near-infrared living body detection and visible light face recognition, supports fast face recognition and precise body temperature detection with security and stability. The system can be widely applied to the scenes of ID confirmation and body temperature detection in buses, attendance check and security check.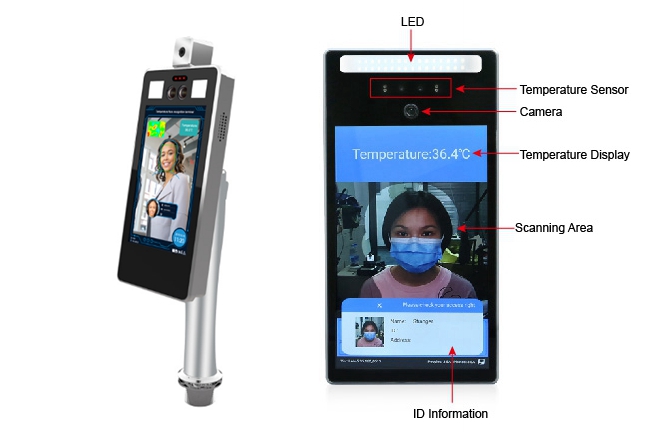 Non-Contact Precise Temperature Measurement System

Thermal imaging technology used to detect regional temperatures of the whole face and calculate the precise temperature with an accuracy of ±0.5℃.Over-temperature audible and visual alarm, automatic photo taking, no need to stay for temperature measurement.
Auto-Alarming RapidTemperature Measuring
When abnormal temperature is detected, an alarm will be launched and the whole picture will flicker in red. In the face database of 30K, the face tracking and detection will take about 0.02s, and living body detection 0.2s, face trait extraction 0.15s, face comparison 0.4s. Faces wearing safety helmets or glasses are both detectable.
Support ID Confirmation
The all-in-one system supports visitor appointment, visitor appointment; IC card and ID card reader supported in user face registration, can realize intelligent access control function.
Data Analysis
The special analysis software system that can perform professional comprehensive analysis and post-processing on the original infrared thermal image captured by the thermal camera. Real-time monitoring of traceable background data; data of recognized persons, time, locations, and temperatures can be exported for storage and analysis.
Wide Application
Widely used in buses, schools, hospitals, office buildings, scenic spots, factories. It's safe, reliable, and easy to manage.